Services Include:
Public Speaker, Guest Lecturer, Professional Development Trainer, School Age Direct Instruction, Adult Classes,Consultation and Individual Sessions
Ongoing Groups Open to Public:
Due to COVID-19 these groups have moved to an online format.
Reach out if interested to receive the zoom link.
Weekly Meditation Group - drop in meditation practice and discussion group
Monday's 9:30-10:45 Usual location - Unitarian Universalist Church of Worcester
PAUSE Group - drop in meditation practice and discussion group
Tuesday's 9:00-10:00 Usual location - Sugden Library in Spencer, MA
Classes and workshops for businesses, community groups, parent groups and schools are available and can be designed to meet specific needs.
Online programming available. Reach out for more information.
"Wendy's approaches with children and commitment and support for families is unmatched. It has accounted for significant improvement in how my son handles stress, manages time and pays attention to his feelings."
Deb, Social Worker and Middle School Mother
Teaching and Public Speaking Services:
Direct instruction for students PreK - Grade 12
Professional development for teachers and others working with children
Workshops for parents on mindfulness for children
Series on mindfulness and wellbeing (and happiness) for adults
Classes on self compassion, self care, gratitude, happiness and other related topics
Public speaking on mindfulness and tools for well being for adults
Public speaking on mindfulness in education
Guest lecturer in college courses on mindfulness and mindfulness for children
Consultation Services:
Assist schools in developing and integrating strategies to benefit student social and emotional learning and increase educational readiness. Address issues of school climate and faculty support through the integration of school wide mindfulness services.
Recommend strategies to businesses, not for profit organizations and groups to benefit employees, clients and members.
Private Sessions:
Individual support to cultivate mindfulness skills and support overall wellness. Strategies include mindfulness, guided visualizations, breathing techniques and body based techniques as well as coaching to integrate strategies into individual lifestyles.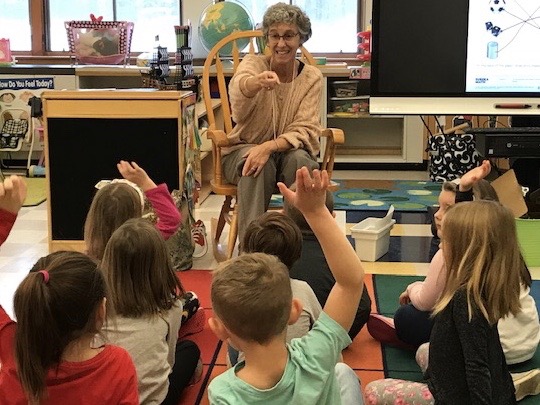 Topics Have Included:
Self Compassion for Children
Self Care and Self Compassion for Adults
Growing Happiness
Integrating Mindfulness into the Classroom

Resilience for Children and their Adults
Mindfulness for Teachers (for Parents, for Caregivers, at Work)
A Taste of Mindfulness
Mindfulness Course for Beginners
Working with Sleep Difficulties
Cultivating Gratitude
Managing Transitions
Weekly Mindfulness Practice Groups
Book Groups on Mindfulness Topics
Contact Wendy to design a course, training or public speaking engagement to meet your needs.
Contact Wendy to discuss courses, training or public speaking topics.
"Wendy's mindfulness classes were an amazing addition to our curriculum. The students were able to learn skills to help them cope with stress and anxiety, and I was able to learn how to incorporate mindfulness strategies into our every day routines." - Liz, grade 2 teacher